Awards
The Baltimore Sun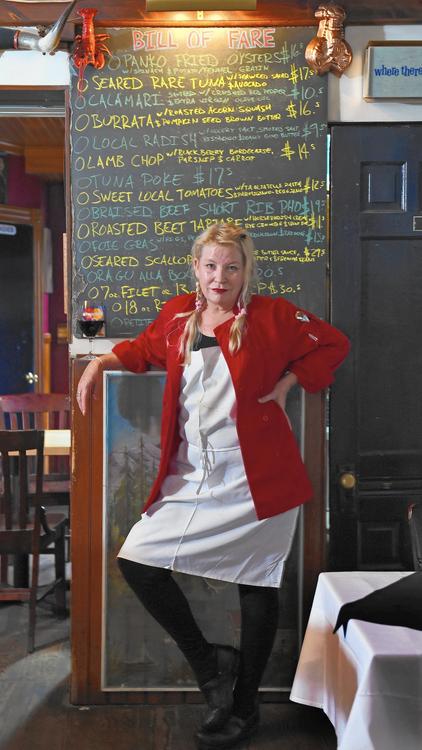 Chef Karin Tiffany, a straight-shooting, funny lady, doesn't take Peter's Inn's success for granted. "I'm always so flattered. I know it seems corny," she says with a laugh. "Some things on my menu might cost what people make in an hour. That's your hard-earned money. It's a big responsibility." Baltimore Sun -

#4 Best Restaurant 2015; October 12, 2015
Every week a new Karin Tiffany menu appears on the blackboards. Every night, customers arrive early, before the kitchen opens, to stake out a table or a barstool in the Fells Point restaurant. Peter's Inn is the kind of place a Baltimorean points to and says, "Now do you see why I love this city?" Read more

Baltimore Sun - #4 Best Restaurant 2014; November, 2014
The doors open an hour before the kitchen gets started, and by dinnertime all of the tables and all of the bar stools are taken at Karin and Bud Tiffany's Fells Point charmer... Read more

Baltimore Sun - #4 Best Restaurant 2012; November 16, 2012
The buttery steaks, filet and a tenderloin, are constants, but everything else on the small chalkboard menu changes from week to week. Karin and Bud Tiffany are the hosts at this inimitable Fells Point restaurant.

Baltimore Sun - Critics Pick; October 27, 2011
You can count the menu items on the chalkboard at Peter's Inn using two hands. Every week, Karin Tiffany erases it and starts all over. What guides her choices? Is it the local, the sustainable, the seasonal? Well, sure, but Tiffany might say, "Local, schmocal; sustainable, schmustainable; seasonal, schmeasonal. It's just good old food." Is it ever. The buttery steaks, a filet Mignon and a New York strip, are held over from week to week, and thank goodness.--Richard Gorelick

Baltimore Sun -

Top 50 Restaurants 2010 (#4)
Every week a new Karin Tiffany menu appears on the blackboards. Every night, customers arrive early, before the kitchen opens, to stake out a table or a barstool in the Fells Point restaurant. Peter's Inn is the kind of place a Baltimorean points to and says, "Now do you see why I love this city?"



Baltimore Sun Online Dining Guide:

The Restaurants; Only in Baltimore
In a memorable moment from John Water's film "Pecker," Christina Ricci stepped off a bus from New York City and kissed the Baltimore cement. The dining version of this is when friends who have moved away come back to Baltimore and insist on going to Karin and Bud Tiffany's restaurant straight from the airport. --Richard Gorelick return to top
Baltimore City Paper Awards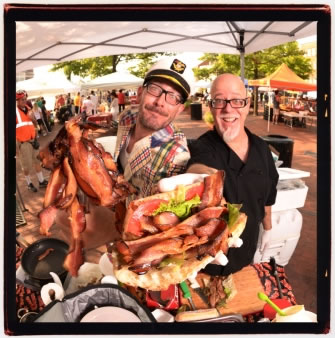 Photo by Sam Holden
2013 Best BLT:
Peter's Inn @ Fells Point Farmers Market
2009 Best of Baltimore Dining Winner
Best Restaurant - Wine List
Peter's might not have the biggest wine list, but it's certainly the most interesting, and it follows the unspoken rules of creating a good wine list. First, consider the portfolios of the best and most interesting importers, like Kermit Lynch or Peter Weygandt, rather than generic, corporate labels. Two, match your list to the seasons, offering heavier reds and whites in the winter, and more refreshing choices in the summer, and more importantly, match it to your menu. Three, keep it affordable by the bottle and by the glass. Four, keep it fresh; no one wants to drink 2007 vintage rosé in 2009. Peter's does all of this, eminently pleasing diners who don't have to decide between jug chardonnay or jug pinot grigio to accompany their soft crab.
2008 Best First-Date Bar
IT'S A SIMPLE QUESTION, TO be asked of married Peter's Inn regulars: How many of you met or had your first dates here? Trust us, there are plenty. So those starting to feel the onset of long-term amorous plans would be well-advised to get to Peter's early and often in the relationship. Doing so winnows out those who might not find Peter's to their liking, and for those, there likely won't be any second dates.
2006 Best of Baltimore Dining Winner - Best Bathroom
Dating can be nerve-racking, sure, but at Peter's Inn in Fells Point ladies need not worry so much--the bathroom here is looking out for you. Got a run in your stockings? Peter's stocks ultracampy seamed nylons in its ladies' room. Hair falling a little flat? Hair spray is here, dear. Feeling less than fresh in the underarm department? Yup, they've thought of that as well. Afraid you won't be all that your date desires in the bedroom? Copies of a retro manual titled How to Please Your Man, if they haven't all been snatched up, are available amid some more modern ultrasexual photography. Whatever your fancy, Peter's offers an endless assortment of silly and sexy goodies in its tiny pink powder room.
2003 Best Restaurant
Every restaurant would be great if it weren't for customers. All of that pandering to their finicky tastes, babyish preferences, and bizarre dietary needs can suck the marrow right out of the fiercest chefs. The urban oasis Peter's Inn lists six or so items on its chalkboard, and that's that. The menu, which changes weekly, typically includes one appetizer (maybe Thai beef salad in cucumber cups, hope you like it), a seafood or fish dish, something with chicken or pasta, and a steak--a really great steak, prepared, maybe with shallots, peppercorns, and brandy butter. So you pays your money, and you takes your chances, and it inevitably pays off. The food is nourishing and imaginative, but truly not fussy. Co-owner Karin Tiffany runs the kitchen, and the only concessions she makes are to the seasons--if tomatoes aren't looking good this week, they're off the menu; if leeks are peaking, let's use them. How about the soup? Maybe in winter. Dessert? Usually not. The restaurant space itself--a few tables in the front bar, a few more in a square dining room--is a tumble-down affair, not even particularly comfortable. This is not a temple for fine dining (temples are for praying), it's a bar with the most reliably sane kitchen in town.
2002 Best Steak
We'll let the downtown steakhouses--the Prime Rib, Ruth's Chris, et al.--fight it out among themselves for who serves the best hunk of meat in swanky surroundings. Suffice to say, we're sure they are all real good, but they're also all out of our newspaper-job budgets. However, we'll sing the praises of the filet mignon at Peter's Inn any day. This cut of meat may not be as big as those served downtown--or maybe it is, but just looks smaller because it's surrounded by side dishes included in the price of the meal--but it's certainly just as delicious. And a good bit cheaper; most weeks, this Fells Point bar/restaurant's ever-changing menu lists it under $20, which always includes salad and garlic bread in addition to the vegetable and potato sides. Lightly charred on the outside, tender, pink, and oh-my-god-that's-heavenly on the inside, this is a steak that doesn't need Chef Karen Fuller's further touches--sometimes just butter, other times a peppercorn cognac sauce--but they definitely don't hurt either. Even better, no tie or jacket is required at Peter's, where the dinner tables sidle right up to the bar, eclectic vintage posters and art decorate the walls, and boozy country music is always playing on the stereo.
Baltimore Magazine Awards
Best Restaurants 2012
If we had to pick a quintessential Baltimore restaurant, Peter's Inn would be our choice. Out-of-towners appreciate its quirky décor, like the stuffed swordfish on the wall, swagged with lights, overseeing the formal white-clothed tables. And locals are downright proud of its former biker-bar status. The restaurant's no-reservations policy is a minor challenge. Diners know they can count on a creative menu that changes weekly from chef/co-owner Karin Tiffany. On a recent visit, we had a beet salad that still makes our mouths water: an assortment of roasted, multicolored beets atop greens, complemented by blue cheese and pistachio pesto. For our main meals, the seared day-boat scallops were plump and delightful, sharing the plate with a silky lobster risotto. And the thick venison chop was so tender we didn't mind its rareness, despite having ordered it to be cooked medium. Service is friendly if not always knowledgeable about the food. Homemade desserts—like pound cake with panna cotta in a pool of strawberry soup—and French-press coffee leave you with a happy impression, whether it's your first visit or fourteenth. 504 S. Ann Street, 410-675-7313.
2012 Readers Poll: #1 Dining Secret and #3 Old Favorite (or Landmark) 2011 Readers Poll: #2 Dining Secret
2011 Urban Gourmet (#2)
The phrase "raising the bar" popped into our heads recently as we sat in the warmth of Peter's Inn on a blustery night, grazing on fried oysters with béarnaise sauce, creamy risotto with butternut and sage, and a plate of seared day-boat scallops with lentils while sipping a smooth Pinot Noir in glasses with just the right heft. We appreciated the bartender who took a sincere interest in setting us up with a nice meal on an evening when the dining room was too packed to accommodate table seating. While Fells Point is teeming with options for drinking and eating, Peter's Inn stands out in ways that evade classification. It could be its previous incarnation as a biker bar and the comfort that longtime patrons still find here (yes, the diverse crowd makes for a fun night)—or the beadboard-paneled interior, packed with artwork, ranging from homey to kitsch. The menu changes weekly, but that's the only thing we want to see change.
2010 Best Restaurants (#28)
We're the first to acknowledge that Peter's Inn isn't for everyone. We realize one person's cozy is another person's cramped, and that others expect to be waited on hand and foot in order to have a good time. But we are charmed by the inn's laid-back atmosphere and casual approach. We appreciate owners Bud and Karin Tiffany's take on relaxed hospitality and settle into our seats with a sigh of relief and a hint of expectation. We are never disappointed. On our last visit, we indulged in plump fried oysters with a remoulade redolent of ground black pepper and were overwhelmed by super-sized scallops glistening in a rich beurre-blanc sauce. Carnivores won't go hungry either, as there is always a big steak on the menu, as well as specials like beautifully braised short ribs that are long on flavor. The wine list reflects a devotion to affordable esoterica, a relief in a city increasingly overtaken by corporate lists. Some nights, there's a dessert to be had; our recent encounter with the apple pie left us duly impressed.
2009 Best Restaurants (#35)
The deliciously quirky Peter's Inn, with its mash-up of rec-room-cum-biker-bar-cum-white-tablecloth-restaurant vibe, continues along its merry way, a safe harbor in stormy times. Despite a few niceties, like those tablecloths, the place is Cheers-like in its comforting familiarity: The former regular we arrived with—who hadn't been around in years—was greeted warmly, as if she'd never been away. Karin Tiffany (chef and co-owner, along with husband Bud) has a way with rich, soul-satisfying cuisine. A dish of braised veal cheeks in orange bordelaise warmed us happily on a cold winter night; potato-crusted day-boat scallops in a leek beurre blanc made our seafood-loving friend smile. And a heavenly dessert of Belgian chocolate pot de crème assured that the good vibe lasted long after we left the premises. It's good to know that some things never change.
2008 Best Restaurants
The decor at Peter's Inn is cozy and odd. The trophies and wood paneling in the tiny back room evoke a 1970s rec room, the bulletin board advertising old pickup trucks for sale evokes a dive, and the giant mounted swordfish that peers over a framed print of Anne Frank evokes … who knows what? The menu is less idiosyncratic, centering on simple but never boring comfort food. On one recent visit, shrimp and grits were transported to a higher plane with discs of chorizo and a tomato "fondue," and the duck breast in a composed salad was so perfectly cooked as to be a revelation. The menu rotates each week and (unlike the ample beer selection) stays small, about eight dishes, some of which can pass as starters, but all of which are usually big enough for a meal. Typically, a constantly changing menu implies the chef is at the market selecting what's great that week, which makes it strange that, at Peter's, asparagus and fresh cherries might land on your plate in the middle of winter. But still. When the cherries are an extra bonus alongside a pitch-perfect dish of cappuccino-hazelnut gelato, shortly before the crazy-low bill arrives on a kitschy tourist ashtray, nobody seems to mind.
2006 Best Restaurants
2005 Best Restaurants
2004 Best Restaurants
2003 Best Restaurants
2002 Best Neighborly Bar
Zagats Lists
Best Baltimore/Annapolis Food Restaurants (#8)
Best Baltimore/Annapolis American (New) Restaurants (#4)
Reviews
Baltimore Sun Review (March 3, 2016 bt Suzanne Loudermilk)
At Peter's Inn, food evolves but some things never change
For 20 years, Baltimoreans have entertained a love affair with Peter's Inn, the cozy rowhouse with the bright red door that still doesn't take reservations. The affection is fitting, given the fact that the restaurant is fueled on romance, not just heat from the kitchen.
Owners Bud and Karin Tiffany bought the place the day after they got married in September 1995. They've been hands-on operators ever since — Karin as the chef, and Bud, who also cooks, as the "execution guy."
"We hadn't gone out in search of a business," said Bud Tiffany. "It fell into place."
He credits Peter's longevity to "constantly trying to challenge ourselves and entertain ourselves." It helps that the menu changes weekly, he said.
Diners can count on beef and seafood options among the dozen or so dishes etched on the restaurant chalkboard. But regulars know to start a meal with the thick, herby garlic bread and salad that are not on the menu. You should, too.
There is a ritual at the restaurant, named after former owner Peter Denzer, who founded the restaurant in 1977 and died in 2014. Insiders know they need to get to Peter's when it opens at 5:30 p.m. to assure a spot for dinner, which starts service at 6:30 p.m. It doesn't take long for the eclectic, 37-seat space to fill up.
The friendly servers are as charming as the quirky, white-tableclothed restaurant, whose walls are packed with photos, knickknacks and even a trophy swordfish snared for eternity in tiny lights. Waitresses wear old-fashioned aprons a la the Betty Crocker era. Waiters are bohemian casual in plaid or plain colored shirts.
It's not unusual to hear Baltimore patois like "youse" among the staff, a reminder of its beginnings. Old timers remember its biker bar days in the 1980s, when Denzer and Bud Tiffany rode motorcycles and Karin Tiffany, who learned to cook in the U.S. Coast Guard, was beginning her days in the kitchen.
As owners, the Tiffanys have spawned a new era.
"It slowly got to be more and more less of a bar and more of a restaurant," Bud Tiffany said. "The menu has gotten more complicated and nuanced."
That doesn't mean diners can't still get a Guinness, martini or glass of chardonnay at the bar. On Wednesdays, select bottles of wine are half price.
Before "the kitchen is open" sign lights up for the night, Karin Tiffany is prepping ingredients for dishes like steamed clams with tagliatelle pasta and lamb chops with cherry bordelaise sauce.
The menu can be confusing because there is no distinction between appetizers and entrees. Usually, the first couple of dishes listed are starters, our waitress said.
We began our meal by sharing the excellent tuna poke, which came with a seaweed salad that got an extra crunch from jicama sticks, and another dish featuring dreamy balls of creamy burrata snuggled up to roasted acorn and butternut squashes with a balsamic reduction. Hazelnuts scattered like marbles on the plate gave the cheese a sweet kick.
Our main dishes were wow-worthy. In one, juicy, slow-cooked duck leg confit moistened fat, cassoulet-style beans for a hearty version of the classic French dish. For a fish entree, a plump halibut fillet was treated simply with vermouth butter and pine nuts but became even more inspired with a rich spinach risotto.
A tender petite filet mignon surpassed a standard meat-and-potatoes preparation with a blue cheese fondue sauce ennobling the roasted fingerling potatoes and charred red onions.
There are a few dessert offerings, but they're not afterthoughts. A silky chocolate pot de crème was luscious with a cap of fresh whipped cream and a dish of caramel gelato.
We were most excited the fruit clafouti was being baked in the kitchen on our visit. Served in a hot skillet, the French country dish showcased a baked golden batter studded with mixed berries. The lemon curd on the side added bright citrusy notes to the old-fashioned dessert.
As Peter's Inn embarks on its 21st year, Bud Tiffany is focused on preserving the restaurant's legacy. When people ask him why he doesn't expand the successful venture into the next building, he has this answer.
"It wouldn't be the same. You wouldn't have the same experience," he said. "People would always say, 'Remember the old days?'"
He's fine with the way it's always been.
---
Word of Mouth "Baltimore: Where the Hipsters Are" |
-Conde Nast Traveler, July 2010
And finally, hit Peter's Inn, in a tiny row house with a bright-red door, for big flavors like the wild rockfish tacos with crème fraiche and the veal cheek ragu.
---
Baltimore Sun Review (January 11, 2009 by Elizabeth Large)
Peter's Inn knows gourmet comfort food
I last ate at Peter's Inn in 1993. It was still calling itself a biker's bar, although maybe with a wink, and I described the food as "home-cooked with a little pizazz."
A couple of years later, Bud Tiffany and his wife, Karin, who was working in the kitchen at the time, bought the place from owner Peter Denzer. They've made a few changes, to say the least, although not so much in the bar itself.
The place still has its biker-bar charm, but it's a very cleaned-up version. (Is there such a thing as biker-bar chic? Or a charming biker bar?) It's cozy and small, with lots of dark old wood and white-clothed tables wedged into every nook and cranny. Even so, there are only 37 seats if you count the bar. A sign announcing "The kitchen is open" is lit in back.
The New American menu, which changes weekly, has dishes like "duck leg confit over a frisee salad with fingerling potatoes and a fried quail egg" and there's not a Buffalo wing or nacho in sight. (To be fair, there's also always a steak with mashed potatoes, vegetable and "100 percent butter.")
Peter's has been discovered, so if you want one of the eight tables, I was told, you have to get there early. The kitchen opens at 6:30 p.m., and that's when we arrived. Unfortunately, everyone else had arrived earlier. They were drinking a beer or wine ordered from the moderately priced, eclectic wine list, happy that they had come early enough to snag a table, and waiting until the kitchen opened to order. I guess early means 6 p.m.
We ended up sitting at the bar, where there was only one other patron. The bartender folded cloth napkins in half and put them in front of us as place mats, and Bud Tiffany stood at the end of the bar, chatting with us, drinking a Bud, and making up a list he labeled "How Long the Wait Be." Later, regulars came in and put their names on it, waiting for a table to turn over.
My advice is don't bother to wait; we were perfectly happy at the bar. Peter's is that friendly kind of place where the bartender takes the time to discuss the '50s rock 'n' roll on the sound system or the pinot grigio he's pouring.
In general, the food at Peter's Inn falls into what well may be the hottest category in the business these days: gourmet comfort food. For instance, the one soup, in fact the one first course of any kind except a salad, was a bowl of French onion soup. Unlike traditional versions, this was made with braised short ribs, so it was quite meaty. Instead of the usual thick, gooey cheese crust, there was a lovely crouton made of French bread and covered with melted Gruyere. It would have been just about perfect if it hadn't been oversalted.
If you want a salad, you order the "salad and garlic bread." (You can also order the garlic bread on its own.) It's a simple green salad of romaine lettuce with a mild vinaigrette. The disappointment was the bread, which wasn't the bread that had come with the soup but something soft, white and "Italian." If they would stick it under the broiler with the fresh garlic and butter a little longer until it's crusty, then they would have something worth shouting about.
Like I said, the menu changes weekly. It's posted on the Web site, but you have to allow the chef some creative license. For instance, the braised cabbage with the salmon turned out to be fresh spinach with cabbage on top, an interesting variation that might occur because someone thought they would make a great pairing, but also might occur because the kitchen was running low on braised cabbage when we ordered. The salmon was one of three seafood dishes on the menu, which was made up of seven entrees in all. None of them was vegetarian that week, although Tiffany told me there often is a vegetarian offering and if there isn't, his wife is happy to come up with one if she gets a request.
Meat lovers have plenty to choose from. Three Australian rib lamb chops, good to begin with and made even better by their rich bordelaise sauce, were as fine as you'll get at restaurants where the price would be double. Mashed potatoes finished the plate, which was at once homey comfort food and haute cuisine.
The chef's osso buco was memorable, the dark, flavorful sauce offering hints of garlic, parsley and lemon. With it came a complex mushroom risotto. It was fine, but a plain rice or pasta would have been an even better accompaniment to soak up the heady sauce.
At some bars that serve food, the cooking can be great but the presentation not much of a priority. At Peter's, a fat salmon fillet came arranged with sweet little neck clams in their shells and a buttery sauce. With the spinach-cabbage mix it made for a very pretty plate.
Dessert was pots de creme with fresh strawberries that evening, but the fresh strawberries were missing. (A good thing, to my mind, in the dead of winter.) The rich chocolate custard, made from some fine gourmet chocolate, was stunning, and I loved its pairing with a delicate bit of coffee ice cream. The berry coulis looked pretty, but was more frill than necessity.
The recession may be hurting some restaurants, but Peter's Inn doesn't seem to be one of them. It's the kind of place Baltimoreans love: unpretentious, cozy and personal, with good food at good prices. And don't forget quirky. If Peter's Inn didn't exist in Fells Point, it would be necessary to invent it in Hampden.
---
Baltimore City Paper | Restaurant Review The More Things Change Ever-Changing Menu at Peter's Inn Always Pleases
By Mary K. Zajac | Posted 8/20/2008
Plus ça change, plus c'est la même chose. Roughly translated: yes, there's a new byline and new name to this column, but although my surname does not begin with "G," the sensibility of Michelle Gienow and Richard Gorelick, the gifted and perceptive writers who wrote this column previously, lingers on in Free Range. From the perspective of this native Baltimorean who returned to the city in 2001 after nearly a decade-long absence, the notion of change (and not changing) in reference to the Baltimore restaurant scene seems particularly apt. Which is why I've opted to begin my tenure with Peter's Inn (504 S. Ann St., [410] 675-7313), a restaurant whose menu is in constant flux but nonetheless remains a Fells Point treasure
Like the old TJ Maxx jingle, Peter's is never the same place twice. The chalkboard menu changes regularly (though you can usually count on the seven-ounce fillet or 13-ounce New York strip). Stereo selections range from classic country to Dick Dale (sometimes in the same evening), and if your date is a bore, you can watch the crowd at the bar: hipsters in gray ponytails and indoor sunglasses slurping martinis and discussing Leonard Cohen, a guy in a white cowboy hat sipping rosé, a pair of white-slacked and silver-sandaled blondes and their inexplicably barking buddy.
With its ad hoc collection of bowling and golf trophies, a working Ballantines clock, and the requisite nod to wildlife in the form of three mounted racks of horns, a stuffed black rooster, and a marlin decorated in Christmas lights, Peter's still has the feel of a Baltimore basement complete with bar (though I suppose most home powder rooms are not as well stocked with toiletries as this ladies room is). Gone, however, is the backroom sofa. And that's just as well. Frankly it was more fun to say that you ate there than it was to actually lean over the coffee table to eat your dinner.
Of course, none of this Charm City charm matters if the food (and drink) isn't very good, and at Peter's it is. Few restaurants in Baltimore have such a carefully honed, reasonably priced wine list with as much breadth and depth, even by the glass. Where else are you going to find a Zweigelt, a Cahors, an exquisite Pinot Noir made by Oregonian Lynn Penner-Ash, and still be able to order an Oliver's Iron Man Pale Ale and a Plymouth on the rocks for the non-wine drinkers at the table?
The food shows this same careful attention. Although salad and garlic bread no longer come with entrées, two seasonal salads appeared on the menu the night we dined. In the Maryland tomato and (Iowa) Maytag blue cheese salad, East Coast married Midwest in simple, straightforward style--a sprinkling of cheese, a balanced vinaigrette, ripe tomatoes. The other salad, mix of local radishes, cucumber, mint, and hearts of palm dressed with pumpkin-seed oil, was a bit racier with the mint and watery cukes a cool foil for crunchy heat of the radishes (though the hearts of palm seemed slightly lost in the mix). Both salads were ample enough to share, and prices reflected this ($10.50 for the tomatoes; $7.50 for the radishes).
Peter's fillet ($22.50), its slight crust concealing tender pinkness within, never fails to satisfy, and for those who like their mashed potatoes to resemble soft-serve ice cream, the accompanying spuds come as perfectly whipped spirals. I like my potatoes a little chunkier and more substantial, but so be it. Of course, we knew that the lobster knuckle sandwich ($16.50) was not, um, lobster knuckles, but some of the generous chunks of lobster were large enough to cover a small fist. Dressed lightly in mayo and tucked into a crisp roll with sweet potatoes sautéed in bacon, this was the essence of summer. Our favorite dish, Portuguese-style mussels ($15.50) with clams, chorizo, kale, and tomato, also had small chunks of potatoes and a sprinkling of chickpeas that were pleasantly firm enough to suggest they had not come from a can. An entire baguette still wouldn't have been enough to soak up the savory, almost unctuous broth at the bottom of the bowl. Only the veal scallopine ($17.50) with wilted spinach disappointed. The light breading was soggy rather than crisp. And though the menu promised lemon beurre blanc, the result was more akin to saltimbocca, with ham and cheese blanketing the medallions, making the whole dish feel heavy.
In years past, the restaurant didn't serve dessert. I'm glad that's changed, even if there's only one choice. And if you're lucky, that choice is chocolate pots de crème ($7.50), so rich with cream and egg yolks and bittersweet chocolate, it's nearly solid. /span>
Like any good "inn," Peter's melds hospitality with an attention to detail, from suspending slim columns of watermelon in water carafes to serving silverware in baguette bags. If you haven't been in a while, go. Space might be tight, but it's always worth it to wait for room at this inn. Welcome.)
Like Peter's Inn on